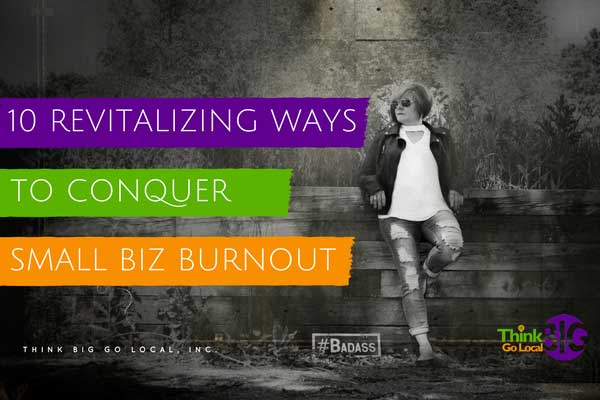 When I started recording the video for this blog, I thought I should start it out with a warning that it might be a little out of the box for our typical content – and a little personal. But then I realized that what I love the most about my business is supporting other small business owners however I can.
So I got to thinking that while this topic may have stemmed from my personal recent experiences, what business owner doesn't go through this at some point? I'm talking about those times when you've just had enough. You might be feeling overwhelmed, frustrated, unmotivated or just plain BURNT OUT!
I've done some serious hustling the past few years: working long days, 7 days a week, giving it my all and then some and after a while it takes a toll. This summer it has finally caught up with me. I wasn't really wanting to go in the office, didn't feel very motivated or creative, oh hell – sometimes I didn't even want to get out of bed!
But I love my business and I love my clients…so being a slacker wasn't really an option. Besides that, I wasn't much fun (as my team would likely agree with) and it didn't make a very positive impact on our production.
So I had to create a plan to get back on track. And, since I'm sure a few of you have been in this place a time or two (and if you haven't, get ready, it's probably coming) I wanted to share 10 things I did to successfully pull myself back to center and get back to the hustle!
1. Own it!
The first step to getting over any problem is admitting you have one. Take a hard look at why you feel the way you feel and what you've been doing to get to this place, and only then can you make a conscious decision to make a change.
2. Start setting limits.
To all my clients reading this, let me remind you that I ADORE EACH OF YOU! Which used to mean if clients would text me at 9 p.m., I would reply. If they sent an 11 p.m. Facebook message, I would answer. Email me on a Saturday, you probably got a response that same day. Sounds great right? Not so much. Because while it felt like it was great customer service, I was never shutting off. Eventually that meant I didn't enjoy my work as much. And that's not good for anyone, not me, my team nor our clients.
So I had to set hard limits for working hours. I literally write them down and stick to them (unless there's an emergency, in which case I'm all over it). Working hours became working hours. Weekends became weekends (woo hoo..what a concept!) Life in general become more enjoyable and I was back to being a better leader and a better service provider to my clients.
Life in general become more enjoyable and I was back to being a better leader and a better service provider to my clients.
Click To Tweet
3. Take some time off and unplug.
I'm not talking about a vacation – although those are great! But vacations can actually add stress to your life when you consider the planning, packing and traveling. I'm talking about just taking time off to relax, start a project you've been wanting to do, visit with friends, or binge watch Netflix. Just do something that allows you to clear your mind and reset your body.
4. Get some damn exercise.
This one is a real challenge for me because my schedule is so full. So, I literally have to write into my calendar. Take a walk, go hiking in a local park, hit the gym… just do something that gets those endorphins flowing and has a positive physical impact on your body. I know I am NOT the first person to tell you how many positive benefits exercise holds, so just do it!!
5. Get more sleep at night.
Easier said than done for those of us natural born hustlers. Combine that with the fact that I'm a horrible insomniac. Sleep is a big deal, like a really big deal. I used to think it was admirable to work until 2 a.m. But just go Google "what happens when you don't sleep" and you'll see how bad that really is for you. Sleep, like exercise, has more positive impacts on your body than I have time to write about. To combat burnout, you need to get enough rest. I personally had to consult with my Dr. to battle this one, but we're getting there!
The 7-Step Social Media Strategy Guide
6. Get more organized and create a journal.
This one has been so helpful for me! I created what is called a "Bullet Journal" (you can look it up). And I primarily work on it at night so that I can get all those thoughts about goals, habits, tasks, etc. out of my head and on paper so my mind is more settled at night. Bonus, it helps me sleep!
8. Make work fun again!
Remind yourself how much you enjoy your team, your clients or your office space. Schedule a celebration or just refresh the culture in your office to bring joy back into your workspace. Heck, if you can't enjoy working for yourself, why wouldn't you just suffer the misery of going to work for someone else?
9. Take care of your physical self.
So this may sound a bit weird, but I literally made a list of all the things I know I need to do on a routine basis and often don't because I get too busy. In one day I called to schedule an eye exam, a few doctor visits, dental cleaning, massage, and a couple other things. You don't have to actually make the appointments for the same week, spread them out if you need to. But every time I go to one of those appointments, I feel great about the fact that I'm not just taking care of my business and my clients, but of myself too. And it's helped tremendously!
10. Create a Grateful Journal.
This is a great practice in general and an excellent way to end each day on a positive note! I keep a journal by my bed and each night I write down three things that I'm grateful for that day. Not always those big things like your family, your friends, etc., but the things that happen in a day that made you feel happy, loved, proud or accomplished.
I really hope you find something in this list that will help you get through those tough times, because we all have them! And as a business owner, there's almost always a ton of pressure on your shoulders and managing it all can be a monumental task at times. But the rewards are so worth it! Finding the best ways to cope when you are feeling burnout creeping in will keep you on the path to success in your business and in life!
If you've found other ways to "battle the burnout", leave a comment below because we need all the tools we can get!  You can always reach us via our contact page, email, or find us on any social media platform @thinkbiggolocal.
And if you haven't done it yet, grab your FREE copy of our 7-Step Social Media Strategy Guide, and then join us in my private social media support Facebook group for tips, tricks and hacks to help manage your social media accounts.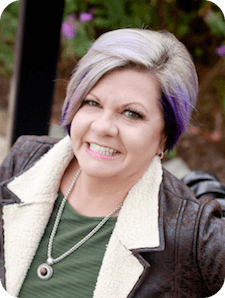 Bobbi Baehne
President, Think Big Go Local, Inc.
My mission at Think Big Go Local is to create a "buzz" around our client's businesses online and in social media platforms so their message reaches their desired audience.  We know that relationships are built and maintained online each and every day and work to make sure our clients are building credibility, authority and attracting new followers and clients .  We don't work in a cookie cutter environment, each of our clients is unique and their accounts are fully managed using their voice, talking to their specific audience and sharing value that keeps them coming back.