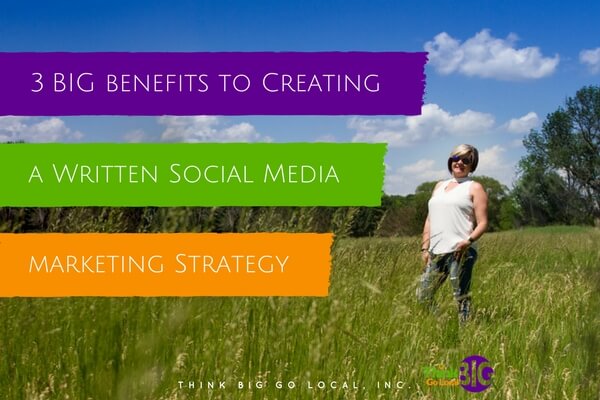 I recently surveyed a group of small business owners and managers about their challenges with effective social media management. One of the questions asked if they had a documented social media strategy. Only about 10% had taken the time to actually write down their goals, strategies and content schedule. In my opinion, this lack of planning and actually writing down goals and objectives could be one of the biggest reasons they are struggling.
At Think Big Go Local, we manage dozens of client accounts and have a written strategy for each and every one of them to keep us on track for making the biggest impact possible.  Just like anything else you put in writing, we find that having a written strategy keeps everyone accountable, allows for more strategic content and ensures that things are getting done when they need to be.
In case you aren't convinced, I want to point out the 3 biggest benefits to creating your written strategy, and to help you out, I have a FREE gift just for those of you ready to get it in writing!!
1. You will Manage Your Time More Efficiently
By having a written plan, you get to think less and work faster!  In my world, those reason alone are priceless.  That time that I don't have to devote to thinking about what I'll be posting today is much better spent working on my business accomplishing other tasks such as sales and revenue generating activities.  And for those days that I'm going to be out of the office, I don't have to spend nearly as much time training my staff to assist if everything is written down and easy to follow.
By having a written plan, you get to think less and work faster!
Click To Tweet
2. You'll Spend Less Time Talking about Yourself
I have found that when small business owners aren't sure what to post, they tend to talk more about themselves in a promotional way instead of focusing on providing value to their audience. We follow what we call our 80/20 rule. If 80% (or more) of your content is packed with the exactly kind of value your audience needs, then 20% of the time you can promote your services or products in a strategic way.  Having your plan in writing keeps you on track to do this without getting overly promotional, which can easily lead to losing followers.
3. You'll create better content
By having your strategy and content schedule in writing, you will have given more thought to the needs and wants of your audience, meaning you'll be able to better serve them. You'll be more strategic about how, when and in what format you put out content. It's incredibly helpful to know a week out what you'll be posting so you have the time to create attractive visual, engaging copy and video.
The 7-Step Social Media Strategy Guide
So, are you ready to create your social media strategy?
To make this easier for you to get in writing, I have created a 7-step Social Media Strategy Guide that will walk you through a variety of exercise that will get you on track to strengthen your brand, identify your perfect audience and create content that draws them to your platforms.
Be an action taker and get your social media strategy in place so you can focus on all the other aspects of running you business!
Click To Tweet
You can download your free guide here to get started. Stop spinning your wheels hoping something you do is going to bring in new followers and increase engagement. Be an action taker and get your social media strategy in place so you can focus on all the other aspects of running you business!
I'm always happy to answer questions, offer a little support to talk more about helping you develop your online marketing strategy. Leave us a note below or reach out via our contact page, via email, or find us on any social media platform @thinkbiggolocal.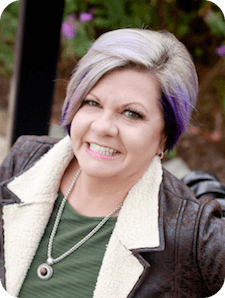 Bobbi Baehne
President, Think Big Go Local, Inc.
My mission at Think Big Go Local is to create a "buzz" around our client's businesses online and in social media platforms so their message reaches their desired audience.  We know that relationships are built and maintained online each and every day and work to make sure our clients are building credibility, authority and attracting new followers and clients .  We don't work in a cookie cutter environment, each of our clients is unique and their accounts are fully managed using their voice, talking to their specific audience and sharing value that keeps them coming back.